There are about 2.3 million searches performed on Google every second. Google Ads make sure you're on top of them.
In a competitive market, you would want your business to be seen by customers at the very moment they're searching on Google for the things you offer. As a Google Partner, we offer specialised services in bringing new leads to your business.
We believe in a ROI (Return on Investment), not just clicks and impressions. Start reaching the right people at the right time. Pay only for clicks and start seeing results in less than 24 hours.
01
Understanding what the ads are for
Before investing a single dollar on any ad campaign, it's important to understand our clients' businesses—who they are, what they do, who are their competition, their strengths and weaknesses, and most importantly the goals they want to achieve.
02
Research and understanding your target audience
We need to fully understand our clients' audiences. We need to know who they are, what product/services do they use, what sites do they use and what do they look for on Google.
03
Keyword research
We conduct a competitive review about our client's main competition and using this data and our keyword search digital tools, we will be able to identify the highest volume relevant searched keywords that customers look for when they search on Google.
04
Understanding your budget
Depending on the clients' industry, objectives, and location targeted, we can strategise our recommendation for monthly starting budgets.
05
Execute and launch
After identifying the relevant keywords, location and audience that we need to target, we can start setting up the campaign accordingly.
06
Test and retest
Every campaign needs to be refined after performance is analysed in order to improve results in future and gain a greater understanding of what is working best with your audience.
If you want your business to thrive, you shouldn't stop at driving traffic to your website. As a business with an online presence, your focus should be bringing relevant and qualified traffic to guarantee leads into your website. That's exactly what Google Ads can do for you.
At The Marketing Co., we have mastered the ins and outs of advertising in Google. So you can put it in our hands if you're a business owner knows nothing about it. From Google Search, Shopping (PLA) Management, Image Ads (Display Network), Remarketing, Video Adwords (YouTube), Conversion Optimisation, Strategy & Consulting, and so much more, we got you covered.
We were looking at growing our business online, The Marketing Co did just that. Such a great agency to work with.
- Kristian | Director, KYC Air Conditioning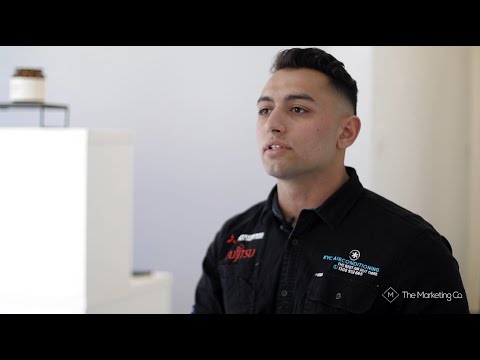 Frequently Asked Questions
Also known as pay-per-click and AdWords, Google Ads are the paid advertisements you see at the top of Google's search engine when you look up something online.
Google AdWords work with keywords that you can bid to get your website on the top of the search. You get to choose specific keywords to enter for your business. If these keywords gets search by a user, then your ad will show up. If the user clicks on your ad, then Google will charge you for that click.
How much will I pay per click?
The price can vary from $0.50 to $5, but it still depends on a lot of factors since Google Ads work on an auction basis. It also depends on how competitive the industry you're in is. The price is also fluid, meaning it can change from time to time.
What should I choose, Google Ads or SEO?
We recommend doing both. This is because Google Ads and SEO are supposed to work hand in hand in order to deliver measurable and sustainable results for your ad campaign.
While SEO is free and organic and Google Ads are paid, there really is a benefit in getting both. The quality of content you get from SEO enables your website to get picked up by Google's algorithm, making your changes better to get a higher ranking in AdWords.
How long should I wait until I see the results from Google Ads?
Setting up Google Ads is a quick process and you can watch it go live in an instant. However, you will need to wait until there's enough data in order to know how your campaign is performing. This can take about 30-90 days. So if you launch a campaign and haven't been seeing results yet, don't panic! The beauty of Google Ads is that you can always keep on improving and optimising it, too, if you find that it's not working as well as you'd like.
Let's talk about how we can bring your ideas to life!