We helped KYC become a leading Air Conditioning Company.
KYC Air Conditioning
Custom Website

/

Digital Marketing

/

Social Ads

/

Videography
KYC Air Conditioning is a residential and commercial air conditioning company located in Sydney. With some high end clients under their belt, they had to ensure their brand and company profile represented the work they do.
KYC wanted to have a fresh approach to marketing, from digital to offline, they knew they wanted to be a major player in the competitive NSW Air Conditioning market. With major projects in the pipeline and massive growth ahead, it was essential a digital strategy was put into place.
300% +

Organic visits

No. 1

On Google search engine

200 +

New leads in 30 days
Delivering the full story of KYC.
The key solution after the first workshop was to create a complete digital strategy that delivered the full story about KYC, our aim was to be able to tell a story from every touchpoint consumers have with KYC. With a comprehensive market and competitor analysis to discover growth opportunities, we are able to begin our work.
A digital effort that guarantee results.
All hands were on deck for KYC—from professional imagery, videography, colour schemes, content and much more which have all been used across the custom website, to a strong digital presence by implementing search engine optimisation and a Google Ads campaign.
A whole new world for KYC.
Since the launch, KYC has seen an increase in new leads, resulting in new projects in the pipeline, a great CPA (cost per acquisition), as well as a stronger brand reputation as their website delivers complete transparency about the company and the projects completed. Our team also rolled out a corporate profile which can be used across tenders.
We were looking at growing our business online, The Marketing Co did just that. Such a great agency to work with.
- Kristian: Director of KYC Air Conditioning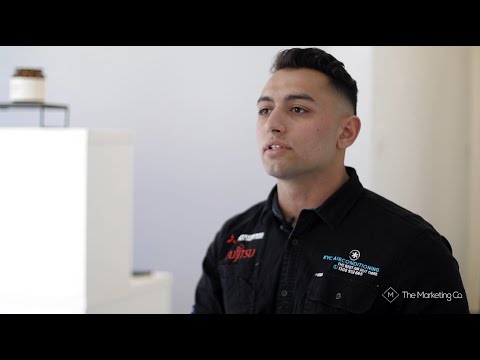 Behind the scenes of the incredible work we deliver for KYC.
Since the project started, KYC and The Marketing Co. have been working together to make business better and better for the client. The beauty of digital work is that things can be fluid, and nothing is ever set in stone, especially in a fast-paced industry. The Marketing Co.'s commitment is to help KYC get to where they need to be every step of the way.
Keep your cool this summer!
Outcome
Supplying efficient residential or commercial air conditioning systems that will give clients excellent air quality and comfort.
Let's talk about how we can bring your ideas to life!