Snapchat ads are full-screen, engaging ads that inspire action and create results!
Using Snapchat Ads can help you reach millions of Snap users. This is why running a campaign with strategy at the forefront is important. Stop wasting your time, effort, and money on unnecessary advertising, and use a direct strategy. We conduct research to understand your target audience which helps us place your brand on the right applications in front of the correct demographic.
Snapchat advertising does not have to be broad it can be direct through the use of data collected by the app. We can help you target the correct audience based on users' interests, behaviors, location, and more! 
We measure the performance of your Snapchat campaigns, offering you real-time insights. We do this by tracking online conversations, optimising your campaigns when needed, and retargeting audiences.  
Once we understand your audience we also need to understand your budget. We work with your budget, ensuring that it is optimised and targeted towards your desired call to action (ie. users visiting your website or making a purchase).
01
Getting to know your audience
Marketing campaigns are only successful when you know your audience. This helps us get to know who you're selling to and what content can be appealing to them, once this is understood we can go ahead and set a tailored strategy.
02
Developing your Content Calendar
Calendars are created to manage campaigns, track deadlines, engage with seasonal events and ensure content is available for extended periods of time.
03
Storyboard Creation
Of course, these planned posts can't be repetitive and disengaging. This is why a storyboard is also put into action which allows your posts to tell a story and creates a successful brand image appealing to your audience.
04
Content production gets on its way
The FUN part! Custom eye-catching content is then created by our team of photographers, videographers, and graphic designers relevant to the developed calendar and storyboard.
05
Ad Budget Set
Paid ads are important on social media in order to attract new audiences and appear more frequently. With the correct budget set and timing this has the ability to deliver much measurable results.
06
Results and Adjustments
Every campaign needs to be refined after performance is analysed in order to improve results in future and gain a greater understanding of what is working best with your audience.
With social media ads, we are able to build brand loyalty and visibility by coming up with engaging content, following the latest trends, improving your reach, targeting relevant communication and increasing conversions for your business.
Still, Confused Why To Advertise on Snapchat?
1. Helps you reach an engaged audience:

Reach the community that's driving change and grow your business with Snapchat users.

2. Make an Instant Impact:

Snapchat Ads are full-screen, immersive, and engaging ads that drive action.

3. Get Results:

Snapchat Ads can be targeted to your specific audience based on data collected on the app, this helps us create a laser focus strategy with your business goals at the forefront.
We were looking at growing our business online, The Marketing Co did just that. Such a great agency to work with.
- Kristian | Director, KYC Air Conditioning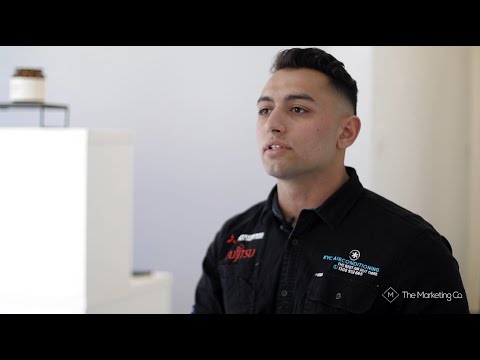 Frequently Asked Questions
Snapchat is a camera and messaging application that allows users to connect with friends and the world in a moment.
With millions of users on the application globally, your brand will for sure be able to target the desired target audience through Snapchat!
What is Snapchat Advertising?
Snapchat Advertising allows you to target Snap users based on their interests, behaviors, location, and more through data collected by the app.
This allows your brand to connect with the correct target audience, having a direct strategy in place in order to have a successful outcome.
How much does it cost to run Snapchat Ads?
We work with your budget! Snapchat advertising can cost as little as $5 a day.  When we run a campaign we test it, then learn from the data collected and optimise it depending on your budget.
What type of ads can I run on Snapchat?
There is a variety of ways you can make your brand appear in front of  a Snapchat user including:
– Single Image or Video Ads: These ads are a Single Image or Video ad which is a full screen ad that can be used for all business objectives, from awareness all the way through to purchase. Since they're fullscreen you don't have to compete for a viewer's attention with other content or ads. These types of ads appear in between or after content on Snapchat, ie.   Stories, Publishers, Creators, and Snapchat Stories.
– Filters: Filters are a great way to grab your audiences attention. They are artistic overlays that appear after you take a Snap and swipe left or right. Take part in Snapchatters' conversations as they visit specific geographic locations. They can contain stylised text and images that convey where the Snap was taken, like a restaurant, event, etc.
– Commercials: This is a great way to engage your audience and drive brand awareness. Commercials can not be skipped for six-seconds and can be up to three minutes long.
Let's talk about how we can bring your ideas to life!