Call Tracking software to supercharge your business growth.
Discover exactly which advertising channel has caught your customer's eye with our phone tracking solution. Phone tracking helps businesses and marketers optimise and drive higher revenue from inbound phone leads.
Get the answers you've been looking for. Have they called before? Is the lead valuable? Analyse what your staff are saying (or not saying) and transform every conversation into a good one. We can help answer all your questions in real time.
01
Consultation
We delve into the mind of your audience. We do market research on you, your competitors and industry and website trends to create one that fulfils your business.
02
UX Design
Now that we know your market, our next step is planning how to tap into your audience's experience and strategising how to make it meaningful and relevant to them in order to achieve your business goals.
03
UI Design
Once we've mastered your user's journey and charted our ways to create an effective website, we would then start to create an interface, focusing on the looks and style of your new custom-built website. This will not only set the tone for your brand, this will also aid in creating a more pleasant and recognisable experience for your users.
04
Development
After locking down the design—upon the client's approval, of course—we will then move your website into development. This is the part where we can start to see it come to life with hover effects and animations that add a bit of character to your whole website.
05
Iteration
Like we said, our job is to make sure you're 100% satisfied with your website even after going live. In order to do this, we go through a cycle of designing, testing, analysing, and refining your website until we get the best results. Our goal is to foresee and deal with the reality of unpredictable user needs and behaviours and quickly responding to them as they come.
06
Digital Marketing
Once your website is all polished and live, it's time for let the world know all about it. Can't waste a cracker website by keeping it to ourselves, right? With digital marketing, we will help you attract and reach your audience through email, content marketing, search engines, social media, and more.
Landing pages are great if you want to guarantee conversion among potential leads. Unlike website homepages, you can be as specific and focused as you want with landing pages, and boost it up with an SEO strategy to get people's attention.
At The Marketing Co., we make landing pages that not only help introduce your brand, but also build trust among potential customers. For some, a landing page may be their first contact with your brand, and a good landing page should be able to make the first impression last. That's what we always aim to do.
We were looking at growing our business online, The Marketing Co did just that. Such a great agency to work with.
- Kristian | Director, KYC Air Conditioning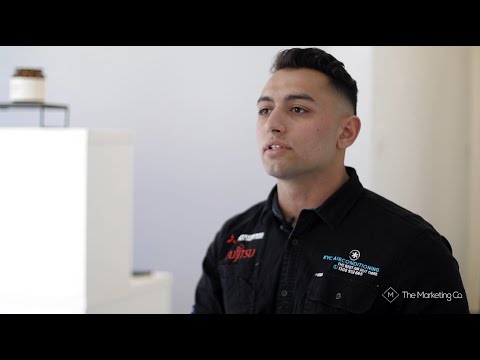 Frequently Asked Questions
What's the difference between a landing page and a website?
Websites are designed so that your audience can explore all about your business. Landing pages, on the other hand, can be customised to a specific campaign, product, or offer of your choice. Focus is what sets it apart from a website. It's what also makes it an effective marketing tool.
Do I need a landing page?
It really depends on you. If you have a specific product or offer you want to focus on and which you think can give you high conversion rates, then by all means! We also need to assess your needs during our initial consultation to fully get an idea and advise if you need a landing page or not.
How long will my website take to finish?
It depends on how much custom coding is required, how much content you have on hand, and how much insight you have on the user journey. A well-designed website doesn't just look good — it showcases your brand effectively, is optimised for your users, and guides users through every stage of the customer journey from awareness to consideration and conversion.
Our team designs the website according to your business objectives, target market, trends, company branding and follows any strict design guidelines. We work with you to create a website that you'll love — and that your customers will love too. Although every business is different, we generally find that the custom web design process can take anywhere up to 3-4 months. This includes multiple approval stages and feedback rounds, which allow you the opportunity to request changes so we can nail down exactly what you're after.
Will my website be responsive to all devices?
Absolutely. Responsive design is a must-have in this day and age, particularly as Australia has one of the highest smartphone penetration rates in the world. We develop a responsive website that adapts to each individual user's screen and delivers an optimised experience every time.
Will my website be SEO friendly?
100%. Our creative and web design team work hand-in-hand with our in-house SEO experts to optimise every element of your website, from the website structure to technical elements, keyword integration, and more. It's part of what makes us the best web design company in Sydney.
How much does website design cost in Australia?
Like most digital marketing projects, it depends. It depends on the amount of custom coding required, the amount of content creation that's needed, and the existing creative assets you have on hand.
Creating a good website involves more than simply plugging your business name into a template. It takes careful strategic thinking, planning, and consideration to deliver an experience that effectively showcases your brand online. It requires powerful copy, impactful photography, easy-to-navigate menus, effective branding and design, and SEO optimisation — just to name a few.
Let's talk about how we can bring your ideas to life!