You've heard the word SEO, but what exactly is it?
Search Engine Optimisation is a powerful online marketing tool that can have a dramatic impact in your online visibility, which then leads to more traffic and revenue for your business. The process involves making improvements and adjustments to your website to 'optimise' it to appear higher in the organic search engine results pages.
SEO is the websites you see directly under the top Google Ads. It is a long term process which is aimed at helping your website rank on the first page of Google and other search engines organically. If you plan to be in business for the long term, and there is a demand for your product or service, then SEO is an investment that cannot be passed on.
01
Keyword Research
We believe in the power of data, using SEMrush and other softwares, we analyse your industry's best performing keywords that are "relevant" to your business' products and services.
02
Strategy Plan
Now that we understand your business and how your customers search, we craft a long term strategy for the right keywords that can drive not only traffic but real revenue for your business.
03
Off-Page Strategy
Off-page SEO strategy refers to the optimisation that happens away from your website which impacts your keyword rankings within search engine results. Off-SEO tips include links, social media strategy, influencer marketing and much more.
04
On-Page Strategy
Our On-page SEO strategy refers to increasing the user experience on the website to better your keyword rankings within the search engine. This includes content writing, optimising page titles and meta descriptions, URL optimisation, content formatting, internal links, video content on the website and much more.
05
Content Strategy
We believe in the power of content. Google loves content and so do we — each month we develop content that is relevant for your customers and helps better the customer experience on your website. We craft the right content in order to increase your rankings.
06
Reporting
Each month, your digital account manager will send through a progress report to show what our team has been doing and the current digital reports of your business.
A long term strategy for a better ROI.
By having a comprehensive SEO strategy with us, you can get the visibility and qualified traffic you need for your business through SEO Audits, Keyword Research, Content Creation, Technical SEO, Page Speed Optimisation, National & Local SEO, and Link building.
A transparent partnership
We are here to develop a transparent business partner relationship. We show you what your actual Google daily budget is. We show you reports that really matter, reports that stakeholders, investors, directors and marketing managers want to see—return of investment.
We were looking at growing our business online, The Marketing Co did just that. Such a great agency to work with.
- Kristian | Director, KYC Air Conditioning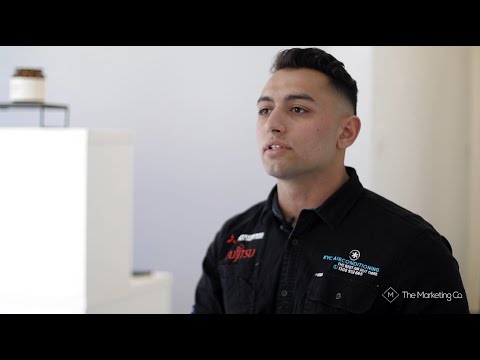 Frequently Asked Questions
Search engine optimisation is a free and organic way to drive traffic to your website through Google and other search engine platforms. It is a process that involves on-site strategies including content development, site structure, and meta tags. Google and other search engines determine websites that have to most relevant and trustworthy on-site content and strategy to rank where you land in the search results.
What should I choose, Google Ads or SEO?
We recommend doing both. This is because Google Ads and SEO are supposed to work hand in hand in order to deliver measurable and sustainable results for your ad campaign.
While SEO is free and organic and Google Ads are paid, there really is a benefit in getting both. The quality of content you get from SEO enables your website to get picked up by Google's algorithm, making your changes better to get a higher ranking in AdWords.
How long until I see the results from SEO?
It depends on how competitive your industry is. It also highly depends on the keywords you choose on your website and the authority of your chosen domain.
At The Marketing Co., we generally see results within 60-90 days, but this can vary significantly especially for different users. This is because Google adjusts the results based on the users location, search history, demographic and behaviours.
If you want to do it yourself, SEO is technically free. However, we understand that not all business owners know their way around SEO. This is where SEO specialists like The Marketing Co. come in. The cost of an SEO strategy depends on the type of SEO you need for your website, and how big the job is. Speak with our team today to start planning your SEO strategy!
Let our team help transform your business through digital.