Videos provide an attractive, versatile, and shareable medium to businesses who effectively want to reach their audiences.
Videos have become such a staple in our everyday lives, more so now with the expansion of the internet and social media. To take advantage of this, we draw on the specialist expertise of our team to provide a bespoke, personal videography utilising effective marketing solutions.
Internet video traffic accounts for about 90% of all consumer internet traffic, and it has been found that viewers retain 95% of the message when watched on video, as opposed to when seen in text. This makes videos, which can be used in many different ways, is one of the most effective marketing collaterals you can have for you brand.
01
Pre-Production
Preparation and planning play a huge role in making an effective and compelling marketing video. Pre-production includes research, strategy, finalising your budget and time tables, storyboarding, scriptwriting, location scouting, and if applicable, talent scouting.
02
Production
Now the legwork—which is always the fun part! This is where we capture the footages we need for your video. This is where your story begins and start coming together.
03
Post-Production
This is where we review the footages, edit, and assemble them to bring all the pieces together into one or more marketing videos so you can start using them across any platform of your choice.
Videos help deliver messages more effectively in a short amount of time while also capturing the attention of the audience through visual and auditory storytelling elements that other forms of media simply aren't able to do.
At The Marketing Co, we believe that the true power of videos heavily depend on storytelling. Which is why we oversee the production of each videos we create for our clients to make sure that the outcome truly showcases what the brand is all about.
We were looking at growing our business online, The Marketing Co did just that. Such a great agency to work with.
- Kristian | Director, KYC Air Conditioning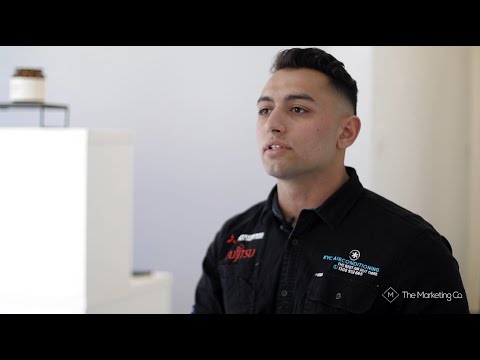 Frequently Asked Questions
What types of video can you do for my business?
With our range of videography expertise, we can produce any type of marketing video you might require. We have done case study videos, promotional videos for products, website promotion videos, and a lot more for our clients in the past.  And if you require something we haven't done before, we always make sure to find a way. We can also help you decide what type of marketing video might work best for you and your business. That's what we're here for.
Do I really need a video for my brand?
If you want to stand out from the crowd of businesses who basically want the same thing as you do, then yes. Videos are a powerful medium for information retention and brand awareness. It has the ability to strike a chord within your audiences, which makes it an effective tool for lead generation and conversion. At The Marketing Co., we make sure that every video we produce is engaging, on trend, and relevant to its audiences.
How long does it take to produce a video?
It depends on what type of video you would like. Different types of videos have different requirements. If we need to shoot, then the video can take much longer than a graphic-based one. Still, turnaround time heavily depends on the video specifications and feedback from the client.
A lot of scheduling is involved in shooting a video. This also depends on the availability of the location, the weather (if it's outdoors), and the availability of the talents (if any). Generally speaking, it can take around a week from the shoot until you receive a draft of the video. Revision times can vary as well depending on how much change is required.
Where can I use the videos produced?
Videos are probably the most versatile medium in the digital world. You can use it anywhere you deem fit—on any page on your website, on your social media platforms, and even offline if you wish! It's still best to strategise where to put your videos, and we are always here to guide you if you need it.
Let's talk about how we can bring your ideas to life!